Brendan O'Hara MP
SNP Member of Parliament for Argyll and Bute
During an SNP Opposition Day Debate in Westminster on Wednesday 14th June, my colleagues and I called for the UK Government to set up a dedicated Cost Of Living Committee – to better understand the …
Earlier this week, the UK Government announced that several fishing industry roles were to be added to the UK's occupation shortage list. The Scottish fishing sector has been hugely struggling to employ enough deckhands and …
Argyll & Bute MP Brendan O'Hara, has urged his constituents to leave the Scottish government "in absolutely no doubt as to the strength of feeling that exists across Argyll & Bute on the issue of HPMAs." In …
VIDEO
Westminster Contributions
We try to feature as many Brendan's appearances as possible and here you can find a representative example.
SOCIAL CHANNELS
Join Brendan Online
Brendan is very active across Social Media and it's a great way to keep up with what is happening across the Argyll and Bute Constituency and at Westminster. Below are recent posts from Brendan's Twitter account.
Green Hosted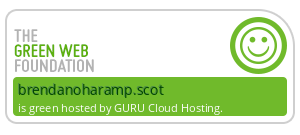 Datacentre uses 100% green sourced power as specified by E.ON and as regulated by Ofgem.